Let your kids enjoy building a Christmas tree safely. 
It is a TRADITION to PUT UP a CHRISTMAS TREE in our HOUSES to COMPLETELY FEEL the CHRISTMAS SPIRIT. It is DECORATED with LIGHTS and ORNAMENTS to FULLY CELEBRATE the SEASON, but what makes the tree so special is the EXPERIENCE and MEMORIES while making it.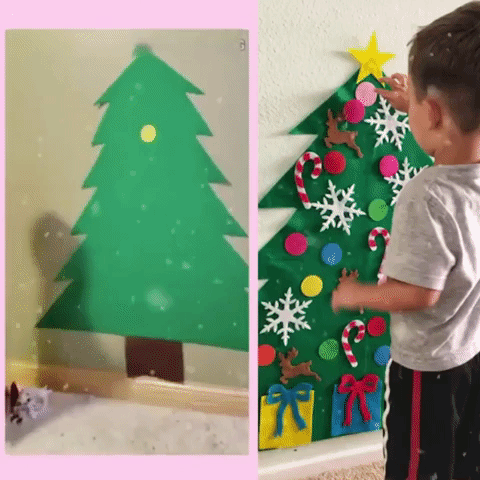 That is why we offer you a SPECIAL PRODUCT for your LITTLE ONES to enjoy building their own CHRISTMAS TREE, introducing the DIY FELT CHRISTMAS TREE.
DIY Felt Christmas Tree is made of HIGH-QUALITY FELT FABRIC that is SAFE and NON-TOXIC making it HARMLESS to the KIDS and DOES NOT PRODUCE BAD SMELLS. It is STITCHED TOGETHER by NEEDLE WORK for a DURABLE STABILITY that it won't make the ornaments FALL OFF or PULLED APART. It is REUSABLE and can be REARRANGED over and over HELPING your KIDS' EXPLORE their CREATIVITY and CULTIVATE their HANDLING ABILITY.
DIY Felt Christmas Tree is FOLDABLE, and CAN BE IRONED to REMOVE the WRINKLES incase you're about to use it. It has a 1pc FELT CHRISTMAS TREE with 26pcs of ORNAMENTS such as Snowflakes, Santa, Christmas Hat, Christmas Socks, Snowman, Candy Cane, Bells, etc.
SHIPPING DELAY NOTICE:
Please be expected 2-4 weeks shipping delay due to High Volume of Order